Summary:
In this exhibition, five artists explore their personal fascination with plants as well as the collective focus on the flora of California. What is it about the spiky Joshua Tree, the smooth and voluptuous succulent leaf, the sound of the wind through the dry grasses, which attracts us so? This multi-media exhibition brings together mysticism, performance, painting, photography and conceptual artworks to dissect and amplify our infatuation with flora in the 21st century.
Specifications:
Opening Summer 2016
Location TBD, seeking gallery locations
Art sales will cover exhibition production costs
4-7 days exhibition set up
Minimum one week run, with opening and closing party
Possibility of weekend workshops with artists plus educational opportunities for community
Plant-Parts
In this series of paintings I explore the sexuality of plants native to the West Coast. The work seeks to confuse and possibly arouse the viewer- folds of succulents are confused for labia, the bristles of a cactus could also be light hitting leg hair. Beyond an exploration of where anatomy overlaps, this series hopes to uncover what it is about plants that is so irresistible and so pleasing when contained. -- Patti Maciesz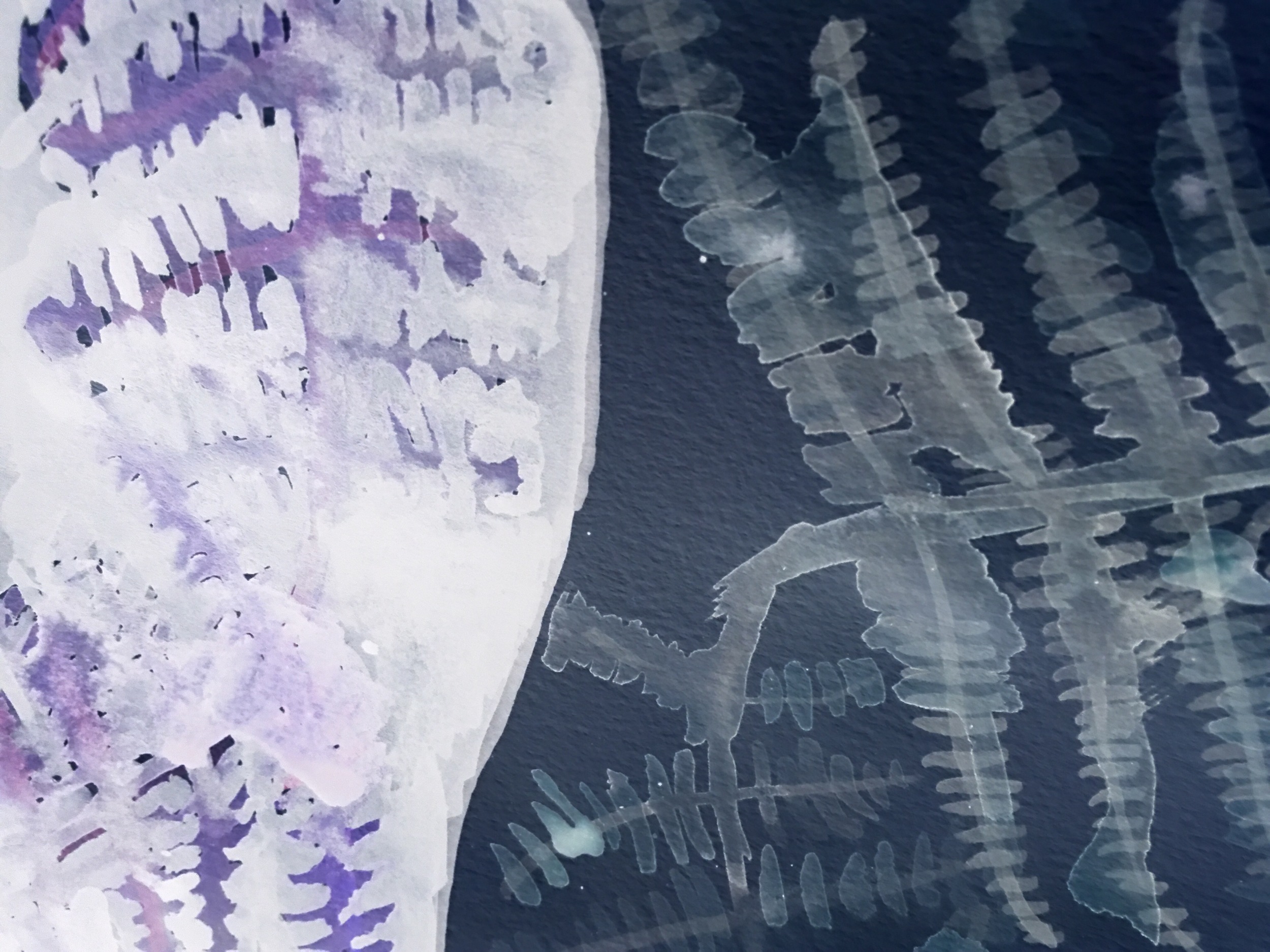 The Secret Life of Plants
Columns have a commanding nature. They are a signifier for beauty, truth and high art. They ask the viewer to evaluate the worth of the object it is supporting. But what happens when the viewer falls out of the picture plane and the column is shown to be a flat facade? In a world of elevated self importance, we created a series focused on 2D columns to highlight the absurdity of their relationships and reality.
In this reality we show an imagined secret life of plants and columns. We intend to create an in-gallery assemblage of columns, which shall become a stage for a costumed performance. We also plan to accompany this with a photo series of the plants set in everyday reality. -- Catherine Miller & Jasmine Venes
California Natives Tarot
Tarot is essentially a set of flashcards whose correct answers are in the eye of the beholder. - Gillian E Masland
A close friend of mine is a horticulturist. Over the course of several lengthy California road trips in recent years, he's introduced me to friendly native species such as the spiky Joshua Tree and vicious beasts like invasive Pampas grass. I decided to carve linocuts to depict the plant shapes- rendering them evocative of a primitive printed pattern, rather than naturalistic academic diagrams. Like the iconic Rider Waite tarot or Rorschach ink blots, the images are intended to be suggestive and evocative, but open to interpretation. I wanted to create a deck that's fun for all ages, so I took a page from Noah's book and made 2 of each card - for youngsters, it can function as Memory or Go, Fish! Adolescents on up are invited to flip 3 cards at a time and extrapolate meaning based upon the various combinations and brief descriptions in the accompanying booklet- a sort of divinatory slot machine.
Untitled
Proposing medium/large open weave "tapestries" (for lack of a better term) Made out of a natural material such as cotton rope, jute, straw or a combination of plant derived materials. The tapestries will hang just above eye level for a specific view of the underside of the pieces. Each will contain remnants of house plants hanging from the open weave. Below the tapestry there will be piles of dirt and broken pots. The idea is to combine use technical skills in the weave with a more obscure question of gravity and how the fallen pots came to be. -- Carolyn Kimbro
Participating Artists:
Carolyn Kimbro brings her background in art, architecture and design to textiles. A Florida native, her woven work explores plant forms as well as our impulse to contain them.
Patti Maciesz is a Polish-American artist and curator from New York. A recent arrival to the Bay Area, her art work remains split between the optimism of the California landscape and the nostalgic storytelling of her native New York.
Gillian E Masland works primarily in Waldorf methods early childhood education and catering. A lifelong astrology autodidact, her preoccupation with plants and tarot kicked into high gear in 2010, when she was part of the kitchen staff at an herbal symposium.
Catherine Miller is an artist, chef and culture worker hailing from Minnesota by way of Toronto and New York City. Now based in Emeryville, where she is working on several performative and conceptual art projects.
Jasmine Venes' work as an Interior Designer in San Francisco brings the structural elements of architecture and home to the plant world. Hailing from Tacoma, Washington, and moving to San Francisco most recently from Santa Fe, New Mexico just this past year, her performative and collaborative art works are a way of engaging with her new environment.